Hi. I am Oksancia – a vector artist and surface pattern designer. In this video, I go through main differences between vector and raster artwork formats for product manufacturing. If you ever wondered what is vector graphic format, then this video and blog post is for you. Here I talk about vector vs raster artwork formats for designing and manufacturing physical products.
In this video, I show my vector floral repeat pattern design created in Adobe Illustrator and a raster JPG version of this repeat pattern side-by-side to show the difference when they are scaled.
I talk about:
1) What is vector graphic format?
2) Vector vs raster artwork formats for manufacturing products. What is the difference between vector and raster artwork formats?
3) How to choose vector or raster graphic formats for your product manufacturing or design project.
4) How to open a vector file? Best software to open and edit vector and raster artwork formats.
5) How to use .ai file format. How to open and edit vector files.
Here is my floral vector repeat pattern design in side-by-side comparison with its raster version at 100% magnification.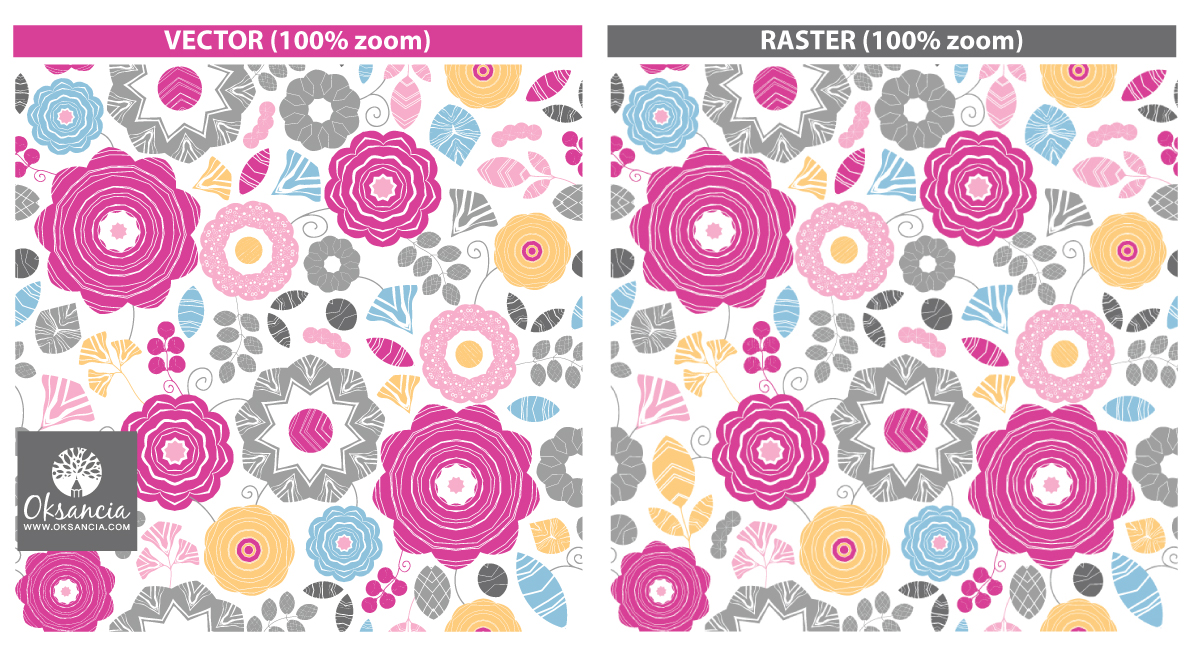 As a freelance surface pattern designer, my clients often ask me about the difference between vector and raster artwork formats after they received a request for vector artwork from the manufacturing facility where they plan to produce their products. Both formats can be used for manufacturing, however, there are a few major differences and here they are:
VECTOR FORMAT (Ai, EPS, could be also in PDF format) is created by the complex mathematical curves in vector editing software. Here are a few main vector editing software:
Adobe Illustrator (I currently use it and I highly recommend it)
Corel Draw ( I tried it a very long time ago and decided to go with Adobe Illustrator since it was an industry standard)
Inkscape (free, open source software. I have not tried it yet. Will try and report in the future)
A vector format can when opened in proper software and can be scaled infinitely while staying crisp and clear. No blurring or pixelation occurs.
So vector artwork can be printed clearly and in a crisp manner on many surfaces by most commercial printers.
Vector artwork can also be edited much easily than raster artwork. You can edit, move, scale and recolor elements in vector files to fit your project. You can also take elements to use a stand-alone placement prints within your line of products you are manufacturing.
Here are the same two patterns as above but at 400% magnification. You can see that raster version (JPG) became blurred and jagged, while vector remained smooth and crisp.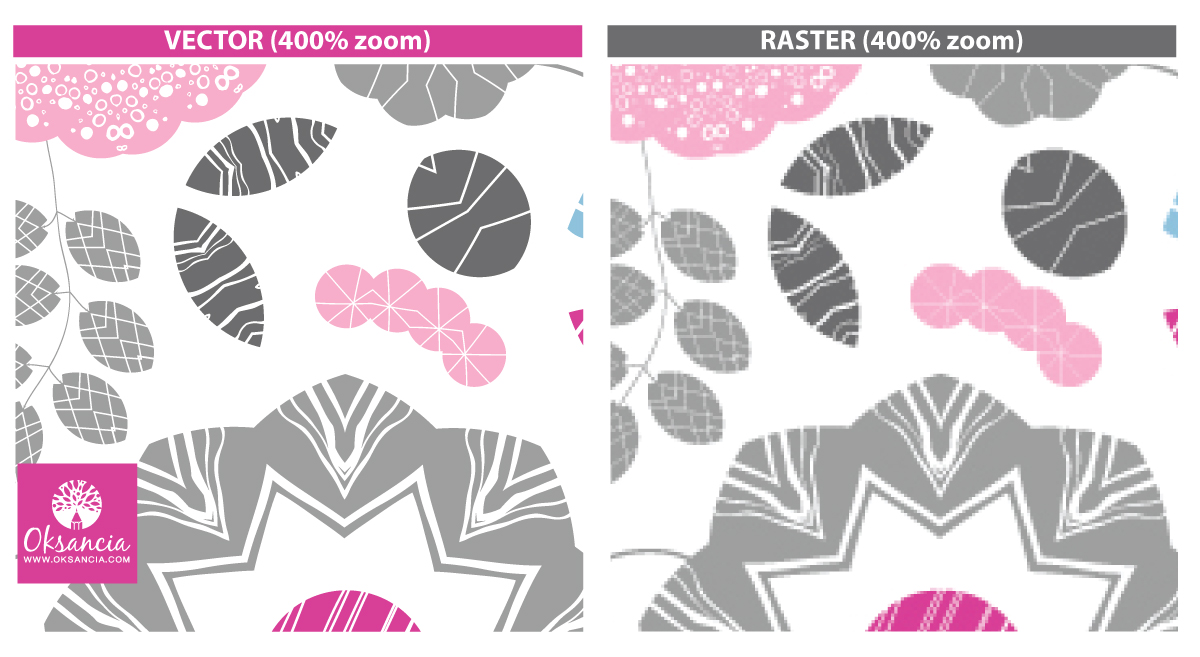 RASTER FORMATS (JPG, PNG, TIFF, and many others) are awesome and useful, too. I use them all the time for my work, however, for manufacturing commercial products like handbags, textiles, clothing, ceramics, plastic products, footwear, etc., raster artwork is less versatile and often not acceptable by the commercial printers or manufacturers. Raster formats when scaled become blurry and pixelated. Raster files consist of pixels with colors assigned to them. When scaled, these pixels start to show.
---
Thank you very much for watching! I'd love to hear your feedback and comments in the section below 🙂 If you have more questions about this topic, please leave them below and I will try to answer them. If you think that my work is a good fit for your products, please contact me to talk about your project today.
Grow, Love, and Create!
Oksancia
Freelance Artist – Textile Designer