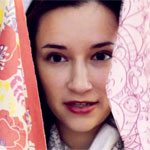 Yesterday I posted this video on my YouTube channel asking for your pattern ideas. I received many comments from you guys! Wow! You are full of great creative ideas! Thank you so much for your help! The achievement of my goal of creating 500 vector seamless patterns for my iStockphoto portfolio this year is getting closer and closer every day. Your ideas surely help a lot with making it possible! Here is the video…
Video: Seamless Pattern Ideas
My YouTube channel: Oksancia

Thank you once again for your great ideas! I already have a list and will be working through it step-by-step.
Check out my last week's Video: My Seamless Patterns – Handmade Scarves.
Patterns in this video:
More seamless patterns in my iStockphoto Lightbox!
Do you have a seamless pattern idea for me? :) I would love to hear it!