Posts Tagged 'Videos'
---
Here is a story of my textile design and repeat pattern business and what I learned in the process…
My name is Oksana. I am an artist, textile designer and a creative soul.
Up to this point I created more than 5000 vector repeat patterns and worked on more than 50 freelance surface pattern design projects.
I created my first pattern ever in 2010 and it has changed my life forever. Before this happened, I was creating vector illustrations approximately once per week for my microstock online galleries, where they could be licensed. One day in 2010 I told my husband Alex that I really liked repeat pattern designs and wanted to make them in vector, but the technical process of creating them was very time consuming and long. So Alex told me "Let's figure it out together!" and we did! We put our heads together and came up with a system that made the technical side of creating repeat patterns very easy and fast for me. We improved the system over the years, but that day we made a simple pattern. Here it is. I was so excited to use it somehow that I made this illustration. One of my personal favorites till this day.
One year later, I have created over 1000 repeat patterns and borders and the revenue from my microstock business grew 80 times in one year. The following year we reached 200x the revenue of my original microstock business. You might say that it all started from that first pattern, but what I learned in 6 years since that day, is that it started from an idea and the fact that me and my husband came together and collaborated. That was one of the best, exciting times in our lives together.
I realized that I have a vision for patterns and artwork that speak to people and inspire them. But the power comes in collaboration with other amazing, creative people. This is what my customers have taught me so much through our common design projects.
If you have a product or a vision for a product that will impact people's lives for better, I would be honored to collaborate with you and create unique, amazing artwork specifically for your products based on my creative vision and more that 8 years of experience in art and design. Please email me and let's talk about your products and how we can make creative, meaningful magic happen together…
I can't tell you how excited I was to discover this little video on Facebook yesterday!!! :) It shows a cute little girl looking at illustrations in my Twinkle, Twinkle, Little Star book and singing the Twinkle song. ADORABLE!!!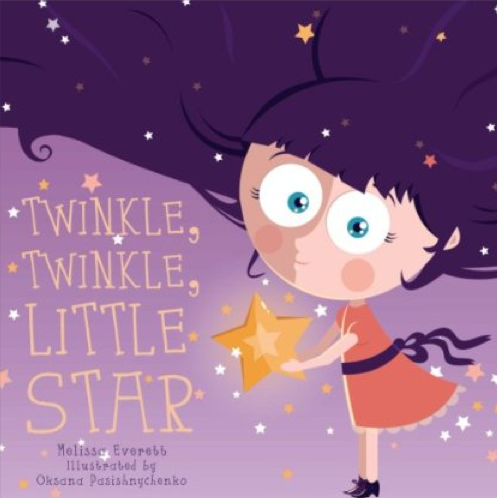 For those who don't  know yet, I illustrated this book a while ago. It was published by Flowerpot Press and it has just come out for sale in United States. So happy to see such a great feedback from this adorable reader… and singer ;) I believe this is the best kind of feedback you can get!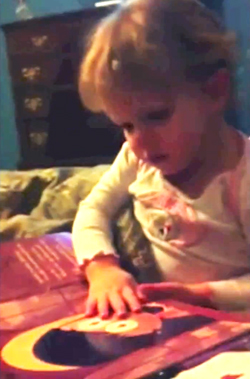 Many thanks to little girl's Mom, Meredith, for sharing this video with us. And a special thanks to my dear friend, Jessica, who has purchased my book on Amazon as a gift for her sweet niece, the star of this video! Meredith emailed me that Twinkle, Twinkle, Little Star book is her daughter's new favorite. She wrote:
"My littlest one took the book to bed with her and she brought it to me first thing this morning to read."
How adorable is that!? :) This makes me really happy!
Once I received proof swatches of my fabric designs from my Spoonflower
 shop, I became very excited to feature them in a video. Well, they ended up to be a new wardrobe for my little stick figure. To be honest, I always thought it was a "boy stick figure", but it ended up to be a girl ;) Seeing all of these tiny dresses and the real size Strawberry dress made by Vivat Veritas makes me want one of my own…
Do wear clothes with patterns on them or you prefer solid colors? I like both now, but I used to wear less patterns before I started designing them :)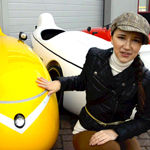 Last weekend Alex and I were in the mood for some adventure Dutch style so we visited SinnerBikes – a very cool place in Groningen where wonderful velomobiles are created and sold. Here is my video with the information about these incredible tricycles. Watch me try one of these things out! I guess we will be buying a velomobile or two in the future… Well, we already have a dream to own a tandem bike for cycling trips, so now we need a big future garage to fit all of those future bicycles in it ;)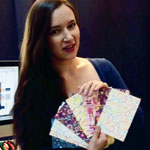 Hi all! I've had lots of fun creating new patterns recently and in this YouTube video episode I show you my seamless patterns inspired by your suggestions and ideas! Thank you for helping me reach 500 seamless patterns! I'm almost there!:)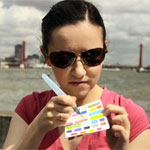 I love traveling! It is one of the greatest joys for me to get on that train and head to some inspiring place and meet some amazing people. So last weekend Alex and I hoped on a train and 3 hours later we found ourselves in Rotterdam. Take a look at my latest video taking you with us on our weekend trip, showing you my travel sketchbook, colors and brushes and how I draw and paint on the go. Ready? Here we go…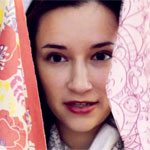 Yesterday I posted this video on my YouTube channel asking for your pattern ideas. I received many comments from you guys! Wow! You are full of great creative ideas! Thank you so much for your help! The achievement of my goal of creating 500 vector seamless patterns for my iStockphoto portfolio this year is getting closer and closer every day. Your ideas surely help a lot with making it possible! Here is the video…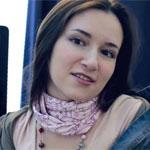 Hey all! How are you doing? Hope your summer is warm and beautiful! It's been pretty chilly and rainy here in Groningen so I decided to show you a couple of scarves I made… They are special scarves because they are made with custom printed fabric with my own vector seamless patterns on them! Check them out in my this week's YouTube video.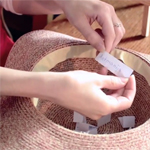 Hey guys! :) I hope your summer is going great! I have plans to work this summer, but I still have lots of fun with my projects and videos every day :) This time I am happy to announce that I have chosen the winner of my Mounted Print Giveaway.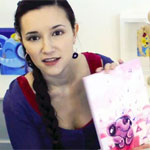 It's time for a giveaway! :) And more importantly it's time for YouTube giveaway! Here is a little video about how you can enter and win my Music Lover mounted print with Rondy the Elephant on the roof! Thank you all who have already taken part! So here we go…