Posts Tagged 'Vectors'
---
Here is my live tutorial: How to Draw Roses in Adobe Illustrator CC. Vector Repeat Pattern Design for Textile.
In this video lesson, I talk about my process of drawing vector roses elements for my vector repeat pattern designs and textile design projects. We create several illustrations of beautiful roses in a vector with a few style variations to achieve a maximum number of vector elements for our surface pattern design.
If you are interested in learning how to create effective and beautiful floral elements for your vector repeat patterns, textile design, and surface pattern design, then this video tutorial is for you.
Tech Tools that I use:
1) Adobe Illustrator CC 2015
2) iMac
3) Wacom Intuous 4 (current version is Wacom Intuos Pro Pen and Touch Small Tablet: )
4) Logitech Wireless Mouse
*Disclaimer: If you purchase recommended by me products through my affiliate links I get a small compensation. This me create more videos for you guys! Thank you so much for your support! :)
I am talking about:
1) How to find a source photos for your vector elements using an example of my own photos of roses.
2) How to set up your vector workspace for creating vector elements, illustrations, of beautiful roses for vector repeat pattern designs and textile design project.
Can You Use Free Vector Art For Products Design and Manufacturing Commercial Products For Sale?
In this video, I talk about if you can use free vector or raster art found online to design your product for sale and manufacture commercial products and how to license art.
If you are looking for vector or raster artwork to design your products for sale, then this video is for you.
Happy to share with you spread 5! It appears that our Star Girl has a little baby sister whom she enjoys spoon feeding :) And their favorite meal is … star cereal, of course ;)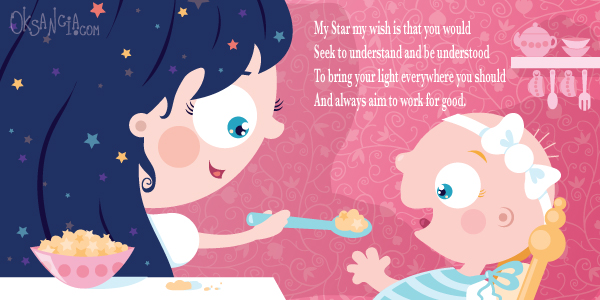 And here is just finished illustration on my iMac screen together with my sketch. Hope you enjoy it!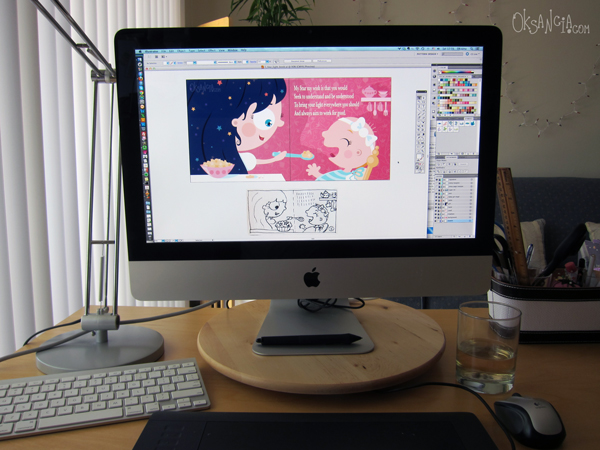 Wishing you all a great weekend!
Spread number 4 is about a little girl who is trying to be a pop star, giving performances to her family and friends :) Do you recognize yourself? ;)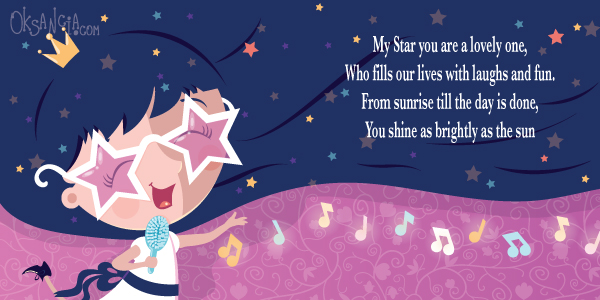 When I was little, I was always too shy to sing in front of people, but I did sing into a hair brush pretending it was a microphone when no one was around :)
Here is spread number 3 of a new book I am illustrating. What do you think?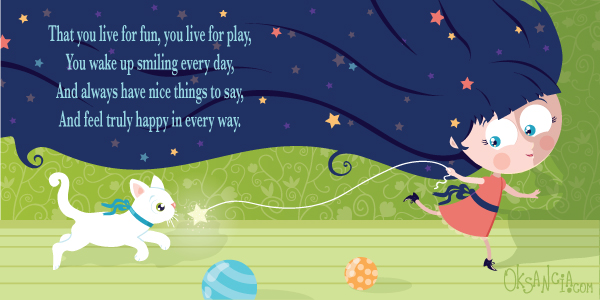 In this illustration Star Girl is playing with her white cat chasing a star on a string :) While I was writing this post I suddenly realized that this kitten looks very much like my parent's cat ;) Funny that I didn't see that before!
Second spread is here! How do you like it?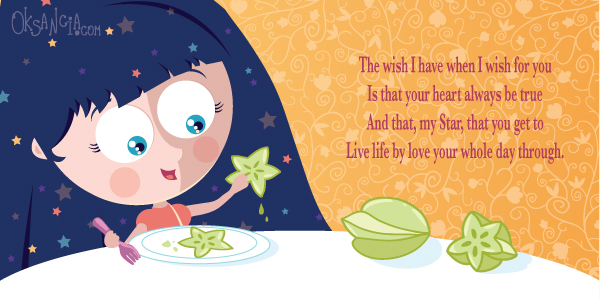 My idea is to show Star Girl character exploring different things shaped like a star. In this one she is eating a star fruit :) For me personally star fruit is one of the exotic treats I got to experience only as an adult. I have always liked the cute shape of it… I remember as a child seeing star fruit on TV I would imagine a new taste for it and when I finally got to try it for the first time, it, of course, tasted totally differently from how I thought it would :)
This is spread 2 of Star Light, Star Bright children's book I am illustrating for Flowerpot Press publisher. Here is Spread 1.
Hope your week is going great!
I am working on a new children's book! Yay! It's a second book in the series of my Star Girl books. The first one is Twinkle, Twinkle, Little Star book which was published by Flowerpot Press publisher and it's available for sale here. I'm so excited to announce that now I am illustrating a Star Light, Star Bright poem with the same main character – cute long haired girl-star :)
Here is me in my home studio working on this book…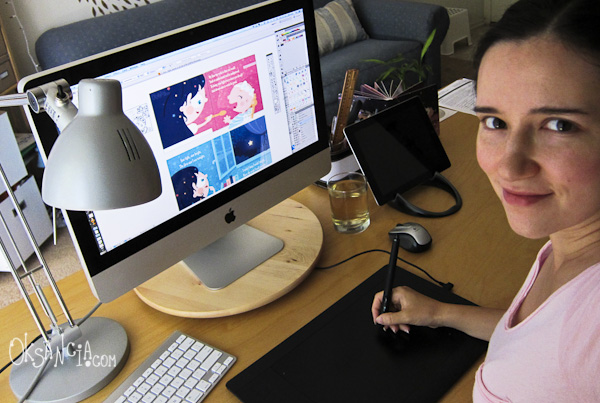 I'm so happy to show you my work in progress pictures so here is the sketch for the first spread.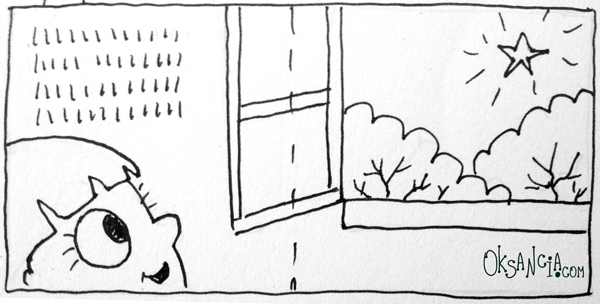 And here is the final vector illustration: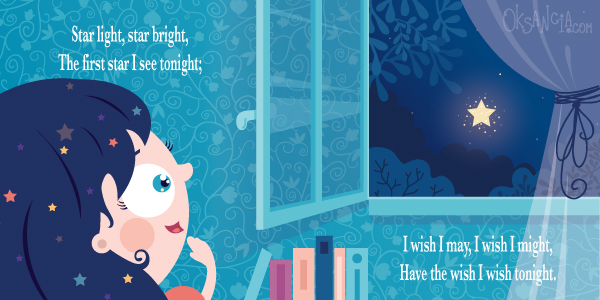 Can't wait to see the book in print. I've been imagining it on my shelf already ;)
What do you think of spread one? :)
P.S.
Happy Fourth of July to all our American friends! Alex and I plan to go see fireworks tonight. How about you?
Just wanted to stop by and show you a couple of vector seamless patterns I drew today… They have a bunch of cute, smiling snails on them :) I saw a photo with two snails on mushrooms on Pinterest today and my imagination just ran with it. I was smiling the whole time I was drawing these guys :) Hope they will make you smile too…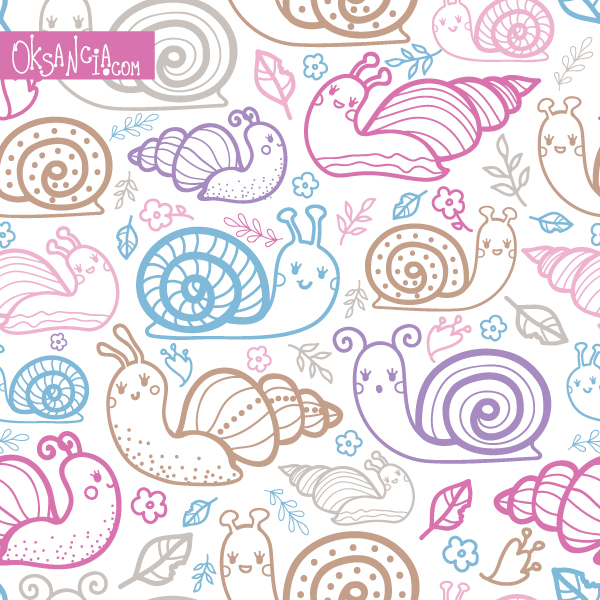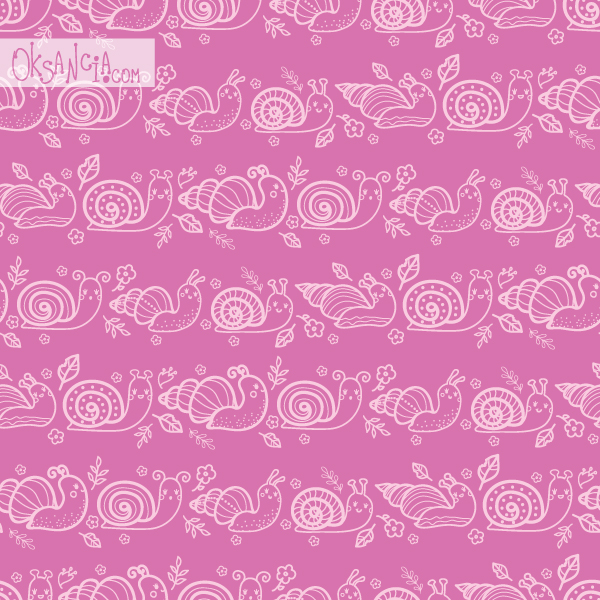 I think these two patterns might look good on fabric for kids. I was considering updating my Spoonflower fabric and wallpaper shop soon and these designs might just make it over there ;)
Hi, my dear readers! Sorry for not posting regularly, but recent exciting changes in our life take up most of my time and energy :) I will talk about it a bit later… For now let me share my excitement about my first animation project!!! Yay! :)
Yankee Doodle went to town
Riding on a pony;
He stuck a feather in his hat,
And called it macaroni.
As you can see from the video, I worked with Eflashapps and their animation team on creating this cute little video for a very famous nursery rhyme Yankee Doodle. I was familiar with this song and always liked the melody, so I became very excited to create a storyboard and character design to illustrate this fun kids song.
Here is my sketch of the scene where Yankee Doodle dances with the Girl.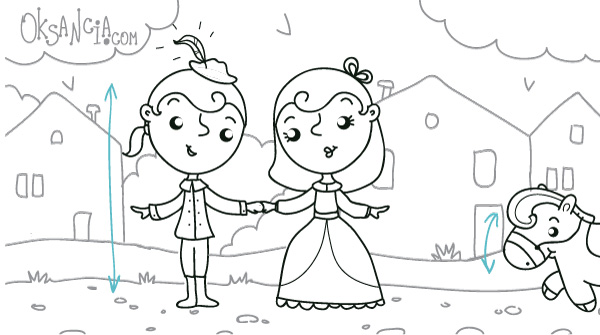 And here is the final colored art for character design in vector format: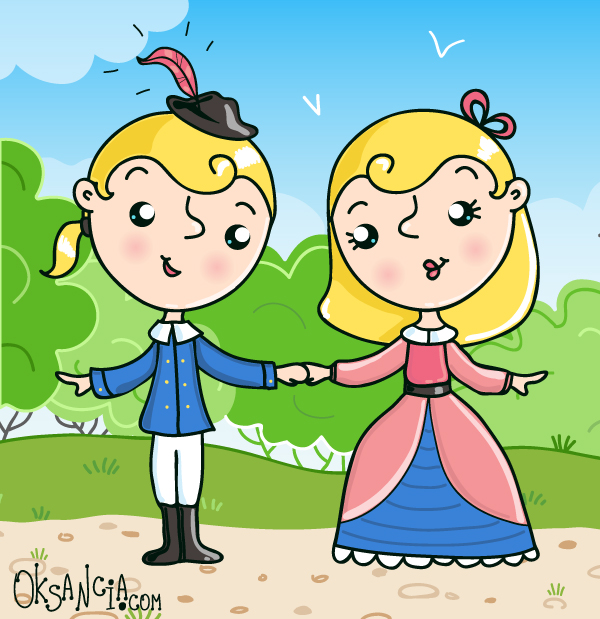 I surely did have a lot of fun with this little animation. I hope you and your kids will enjoy watching and singing along to this video.
I'd love to know what you think about my first try in animation genre :) Please let me know in the comments!
This spring is being a busy one for me :) But "good busy". Just finished the first project in, hopefully, a series and it is a very exciting one. I can't tell you more at the moment, but here is a little preview of two characters – two adventurous, little buddies…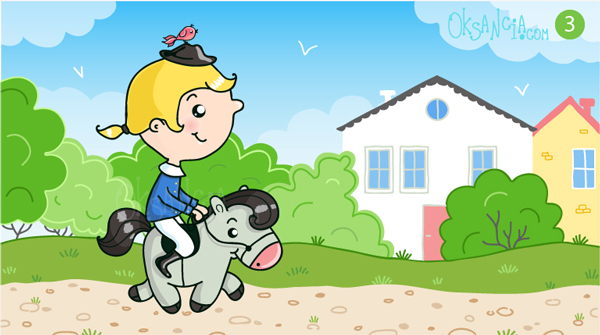 I hope you too are having a productive week!
Oksancia