Posts Tagged 'Tips'
---
A few weeks ago, my home office art studio was not available for 10 work days as our roof was beeing repaired after the heavy rains. I use iMac and Wacom Intuos for my work setup to do my freelance textile design projects so I couldn't take them to a coffee shop. I decided to go to the local library instead and to study marketing as I felt that I wanted to spend some time studying a new level for my business. This was a perfect opportunity! :)
Every day I packed a lunch for myself and went to the library to read books about marketing. I got two books:
1) a physical copy of Jab, Jab, Jab, Right Hook: How to Tell Your Story in a Noisy Social World* by Gary Vaynerchuk
2) The Sell: The Secrets of Selling Anything to Anyone by Fredrik Eklund* – audiobook
As I walked for 1 hour to the library every day, I listened to The Sell audiobook and really enjoyed it. It talks a lot about personal brand, taking care of yourself, confidence, and marketing. I found the tone and the message to be very inspiring.
Hope you are all having a great, creative day! I've been filming videos about textile design and running a creative business for my Oksancia YouTube channel. Here is a live stream video where I talk about how to be more productive and creative by creating an effective ritual for your work day.
This is the first video in my live series What Helps Me Grow, Love, and Create. I will share my experience and tips that helped or are helping me in my creative business. I'm super excited about it! :)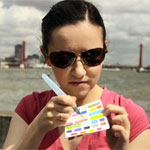 I love traveling! It is one of the greatest joys for me to get on that train and head to some inspiring place and meet some amazing people. So last weekend Alex and I hoped on a train and 3 hours later we found ourselves in Rotterdam. Take a look at my latest video taking you with us on our weekend trip, showing you my travel sketchbook, colors and brushes and how I draw and paint on the go. Ready? Here we go…