Posts Tagged 'Spoonflower'
---
From time to time I embark on a Google images search trip to find how my pictures are being used. Today's trip appeared to be very productive as I managed to find a couple of very curious and exciting things. For example, I was so glad to stumble upon a picture of cute shorts made from my Bright Garden Flowers fabric by Spoonflower employee Danielle!!! :) Wow! :D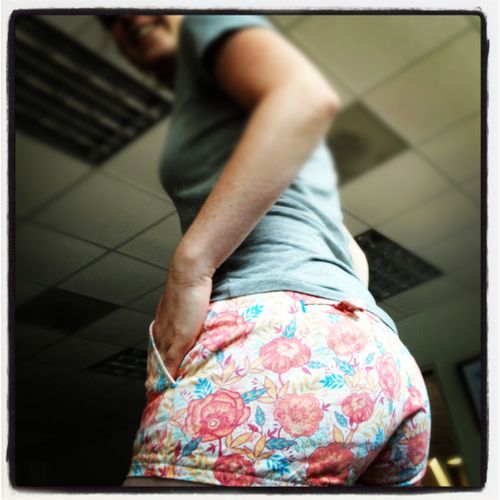 They look great… Especially in the middle of winter :) It seams that I have missed this post on Spoonflower blog a couple of months ago. Nevertheless, I am always happy to see how people bring my fabric designs to life. Thank you, Spoonflower, for sharing this picture!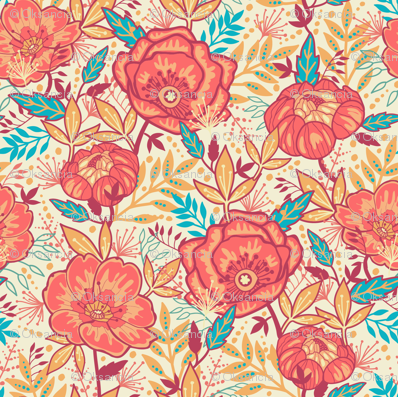 Hope you are all having a great day!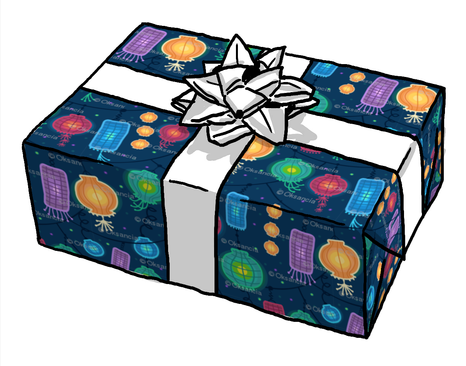 I am so excited to announce that my designs are now available on gift wrap! Spoonflower – the online fabric and wallpaper printer – started to print custom and designer wrapping paper for a limited time. I had so much fun going through my designs and previewing them on gift wrap :) Here are a couple of my favorites… Click on gift boxes to go to Spoonflower website.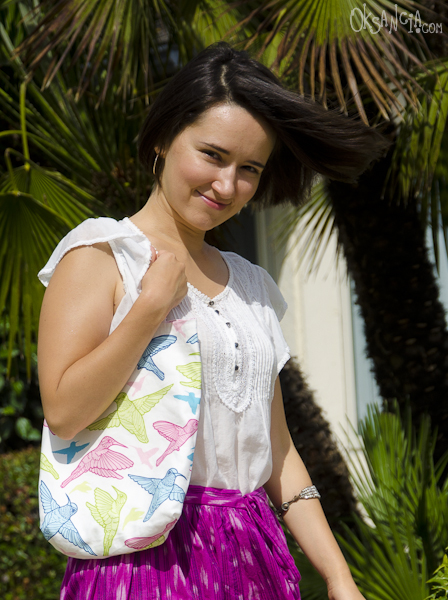 Hi everyone! I am very excited to announce that my new fabric collection California Days is finally available on Spoonflower. It is insired by my recent move to beautiful Santa Barbara, California. There is just so much inspiration around that I decided to share it all with you :) I hope you would be able to feel the lushness and fullness of life of this little paradise through my fabrics.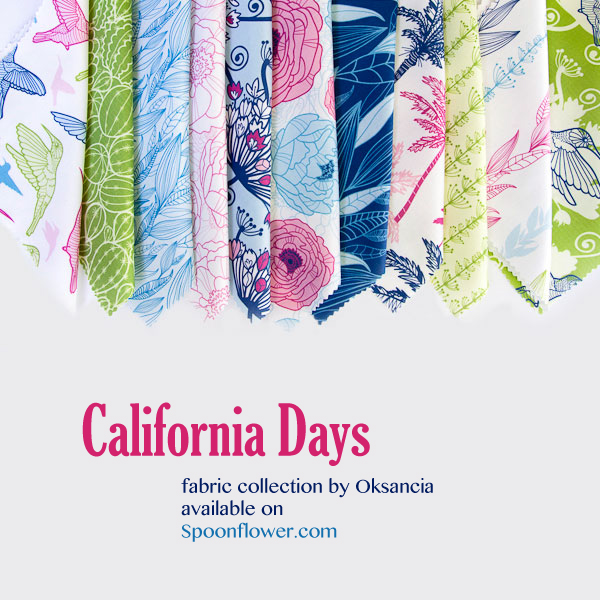 To give you a better feel of the fabric and texture, I designed this little reversible tote bag with hummingbirds and flowers from my new fabric collection.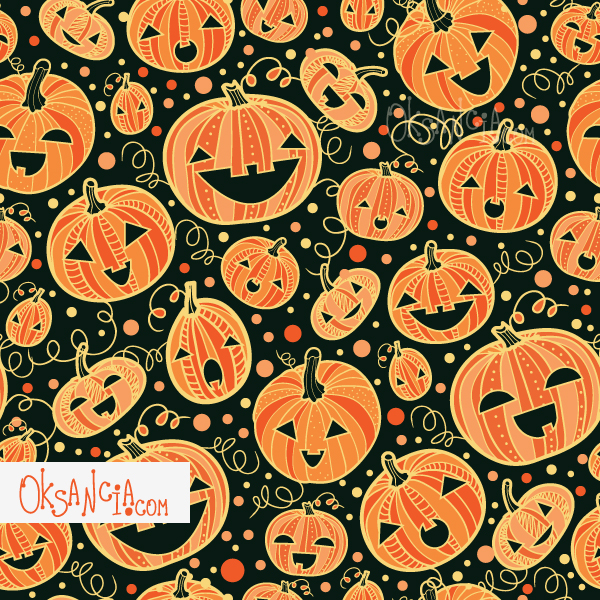 Hope you are all doing great! I am working on new fabrics for my Spoonflower shop and here is one seamless pattern with smiling Halloween pumpkins that is now available for sale. It's a spooky, but happy one :) I wonder if I should try my hand at carving pumpkins this fall ;)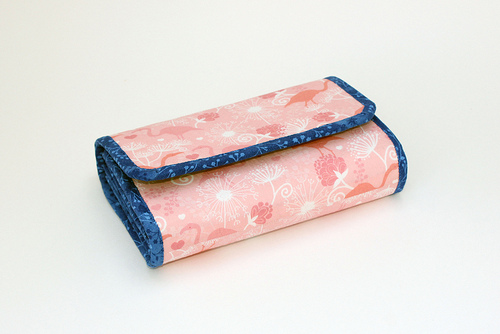 I am really excited about this wallet made by lovely LittleQuack. The pink fabric with romantic flamingos is my design Flamingo Love from my Spoonflower Shop. It is just so fun to see how people use my fabrics! LittleQuack did an amazing job on this little wallet and she has such lovely, pattern covered creations in her Etsy shop.
I am currently working on a bunch of new patterns myself ;)
Hope your are all having a great week!
Once I received proof swatches of my fabric designs from my Spoonflower
 shop, I became very excited to feature them in a video. Well, they ended up to be a new wardrobe for my little stick figure. To be honest, I always thought it was a "boy stick figure", but it ended up to be a girl ;) Seeing all of these tiny dresses and the real size Strawberry dress made by Vivat Veritas makes me want one of my own…
Do wear clothes with patterns on them or you prefer solid colors? I like both now, but I used to wear less patterns before I started designing them :)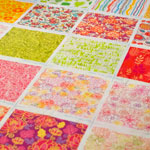 Hey all! Sorry for a long silence! I've been taking a break from work to organize, clean up, throw away and pack all of my belongings for the big move in a couple of days. I've been spending most of my time away from the computer, but one thing happened that made me come back to the shiny screen of my MacBook – a brand new batch of my fabric proofs arrived from Spoonflower! :) Check them out!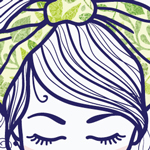 I am day dreaming about scarves today… It is pretty chilly outside.  White mist has covered the streets. On a day like this I love to wrap myself up in colorful warm scarf. While I was imagining how my new series of vector seamless patterns would look on fabric, I came up with these two drawings of ladies wearing scarves with my fabric designs :)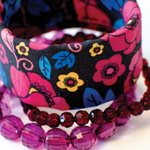 As the autumn goes by with its vibrant colors and dancing leaves, I find myself again being drawn to my colorful fabric swatches. I designed and ordered them at Spoonflower. Playing with my fabrics and coming up with new ideas for my little DIY sewing projects brings me much joy… Look! Look what I made this time :)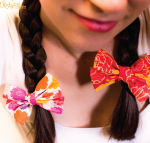 Hey all! Just stopping by to show you a couple of little accessories I made while playing with  Spoonflower fabric swatches with my designs. I think that a lot of my things could use some serious "cheering up"… Hope they bring a bit of color into your day too!