Posts Tagged 'Rondy'
---
Do you remember my little Rondy the Elephant? He is a fun elephant who loves all sorts of adventures. I made a series of Rondy paintings back in 2011 for my Etsy shop while living in the Netherlands. Unfortunately, I had to close it due to our big move to California last year. Rondy has been feeling quite lonely in the folders on my computer and really wanted to get out and have adventures once again ;) So this time the whole series of Rondy the Elephant illustrations will be available in my Redbubble shop.
Here are a couple of things Rondy chose to appear on: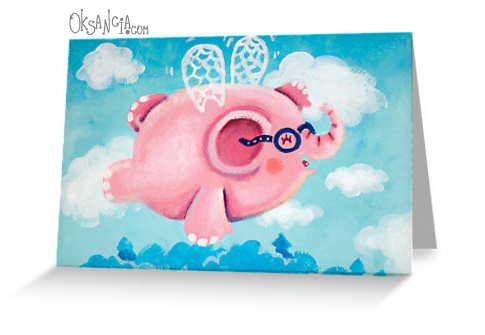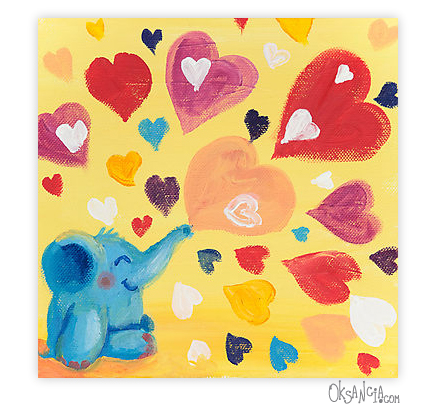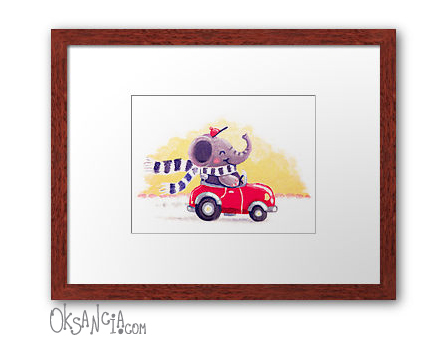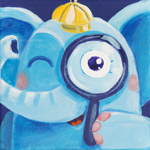 It's official! I have temporarily closed both of my Etsy shops Rondy the Elephant and Optimistic Art while I am finishing up in Groningen and moving to California. I am not sure how long it will take, but I'll keep you posted :) Thank you, all my lovely Etsy customers! While I'm packing, check out my Spoonflower Fabric Shop and my iStockphoto Vector Seamless Patterns and Illustrations shop. Greetings from my Groningen studio (for now) :D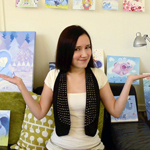 Yep! Finally a new video! Sorry for a big pause in uploading my videos, but I'll try to get better and come up with something fun for you! I hope you like it! Let me know what you think of my Rondy paintings! :)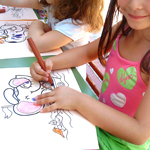 I have recently received this sweet photo from one of my customers who had purchased Printable Coloring Book Rondy the Elephant. Little kids from kindergarten are having fun coloring my Sailor Rondy coloring pages :) I can't express how much happiness it brings me to see my work being enjoyed by kids! Thank you so much Ilias for sending me this pic! :)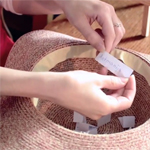 Hey guys! :) I hope your summer is going great! I have plans to work this summer, but I still have lots of fun with my projects and videos every day :) This time I am happy to announce that I have chosen the winner of my Mounted Print Giveaway.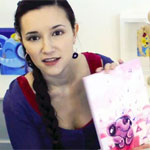 It's time for a giveaway! :) And more importantly it's time for YouTube giveaway! Here is a little video about how you can enter and win my Music Lover mounted print with Rondy the Elephant on the roof! Thank you all who have already taken part! So here we go…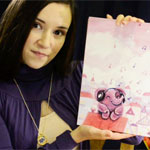 Wouldn't it be cool to have a way to create that canvas 3D look for your art prints? I think so! :) After some planning and exchanging ideas Alex and I came up with a way to mount my illustration reproductions on wooden blocks. The process takes some time, but we are very pleased with the result! Here is a video tutorial with step-by-step instructions on how to create great mounted prints that do not require a frame…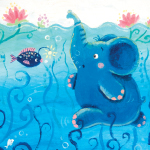 Finally I got to my next Rondy the Elephant illustration! I made this one a while ago, but totally forgot to post it… Oh well, now it's here! And in time for summer vacation, fun adventures and making new friends! :) Hope you like it!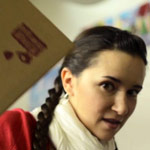 Hey! I managed to fit an elephant in a post envelope! Don't believe it? Just watch my latest video! :) Of course, the elephant is my illustration character Rondy and it sits comfortably on a paper print, but it did fit into my cardboard envelope! True story! I wanted to practice filming and shot this video all by myself – pretty proud :D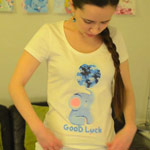 Hey guys! A bit late, but nevertheless, here is my video number 4! It is actually a mini lesson on how to transfer inkjet print picture on a t-shirt fabric. I hope you enjoy watching it and after that you will go and make a colorful t-shirt of your own! :) Don't forget to mirror the picture on your computer before printing it on inkjet paper! :D