Posts Tagged 'Projects'
---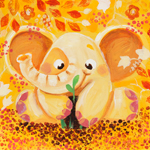 Just wanted to let you know that I'm collecting my Rondy paintings into 100 Elephants and 33 Poems project on Flickr! There are many more adventures of Rondy the Elephant to come. Hope you enjoy them as much as I do! :) There is also a little giveaway on Rondy Facebook Page! Come join us to win your favorite item from Rondy Etsy Shop.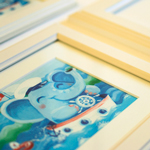 Hey everybody! :) We meet again! Hope you all have had a wonderful holiday time! Alex and I went to Ukraine to visit our family and now back to work in Groningen again. It's time to share some news about the new project that we've been working on for a couple of months now. It is going to be a whole new series of illustrations with a new character Rondy! Come and meet him! :)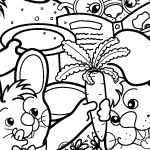 Holiday season is here and so is my new free printable calendar 2011 as an early holiday gift to all the wonderful people who have been supporting me and my work online and offline! :) 2011 is the year of Rabbit and so my calendar is featuring cute hungry bunnies. Enjoy!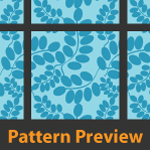 I am happy to present a brand new tool for microstockers worldwide –  Pattern Preview bookmarklet, which shows the tiled preview of any microstock seamless pattern with one click inside your browser window. It is absolutely free and everyone can easily install it.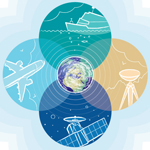 I finally have a chance to share this freelance project I did last winter for Delft Institute of Earth Observation and Space Systems (DEOS) at Delft University (the Netherlands). The task was to create a logo-illustration for the Remote Sensing Symposium the Institute organized in May and incorporate it in flyers and symposium poster design.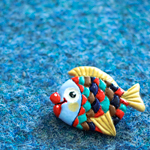 I've always been curious about polymer clay and its possibilities so I decided to try it out for myself :) I had an idea for a cute colorful fish character and wanted to create a little sculpture. Here is the result of my little expreriment – Fish Pin!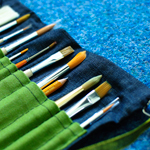 I've been painting more and more at home and at the art class, which I love to do… For this purpose I put together a little collection of art brushes, but needed something to store them and transport them in my purse…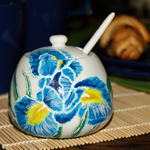 Part two of my holiday gifts posts. This time it's hand-painted sugar bowls that I made for my friends and relatives. In part one you can find my painted teapots. I designed them all to become Floral Hand-painted Porcelain Series. Had lots of fun while creating these little cheeky cuties! :)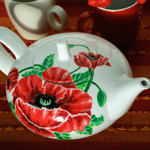 Hello everybody! I'm back from my little holiday vacation which I've spent in Ukraine with my family. Great times, though I was a bit sad as I didn't have a chance to meet my friends this time. Thank you all for your sweet comments on my birthday and New Year! Starting from today I'm beginning a new and exciting year full of great projects and creativity (and hopefully traveling ). I wish the same to all of you!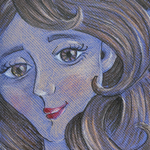 I must say that I really love the idea behind Mail Me Art project by Darren Di Lieto! It is a British-based project that aims to showcase a collection of artworks by different artists who participate by creating artistic envelops and mail packaging and sending them by normal post. What a fun way to create something unique and share it with others! :)