Posts Tagged 'microstock'
---
I have some exciting news to share :) A couple of weeks ago I cancelled my exclusivity on iStockphoto to try myself on other microstock agencies. It was a good couple of years being exclusive and my microstock business has considerably grown over this time, but I decided to give my portfolio a try on a number of microstock websites. I hope it will bring my portfolio new exposure, new clients and new possibilities.
Here are the links to my portfolio on microstock agencies:






For now I am in the process of uploading my 1500+ vector illustrations, seamless patterns and designs to these 6 microstock agencies and plan to increase the list of websites as I see how things are going.
What are your plans for next year? :)
Hugs!
Oksancia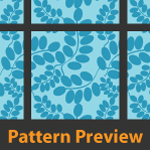 I am happy to present a brand new tool for microstockers worldwide –  Pattern Preview bookmarklet, which shows the tiled preview of any microstock seamless pattern with one click inside your browser window. It is absolutely free and everyone can easily install it.