Posts Tagged 'Freebies'
---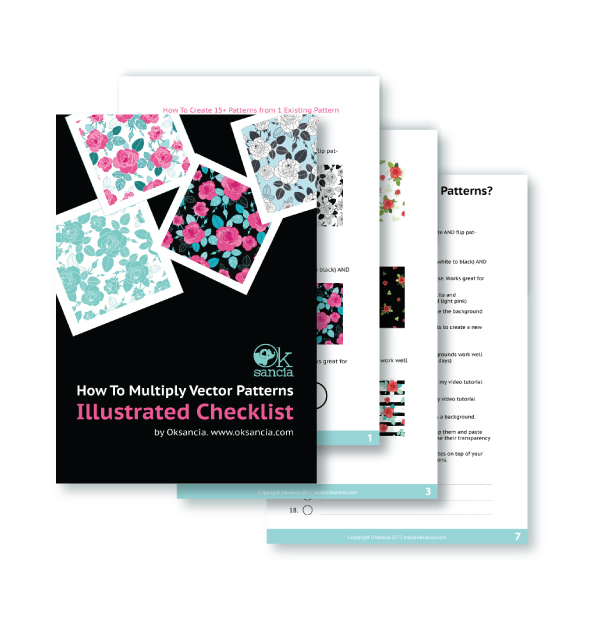 Click on the image above to request it!
I often get asked how I managed to create close to 6000 vector repeat pattern designs in a matter of a few years. I gave it some serious thought and got a realization that I developed an important system and ideas how I multiply my vector repeat patterns for sale on microstock agencies and print-on-demand websites like Spoonflower. So I decided to share my system with you by creating a free ebook of ideas:
15+ Repeat Patterns From Just 1 Or How To Multiply Vector Patterns. Illustrated Checklist 
Why do you need to multiply vector patterns?
Practice. To practice creating vector repeat patterns and designing new color combinations, layouts, compositions, styles, and trends.
Portfolio growth. Fill your portfolio and online pattern shops with patterns faster.
Reach a variety of customers. Different customers are interested in different colorways, sizes of the elements, and styles, I found that if I create only one pattern per idea, my portfolio fills up very slowly and many times, the most popular pattern comes out of these experiments :)
I shared the process and my thinking behind this system in this video which is Part 4 of the Patterns With Roses Video Series on my YouTube channel.
To receive the ebook Checklist, please click here to subscribe to my newsletter to my Creative Business Newsletter and leave your name and email below and you will receive you the ebook right away in your email inbox. You will be subscribed to my Creative Business Newsletter where I share tips, advice, and ideas about textile design and running a creative online business.
This is my gift to you, my creative friends, for your support and amazing comments on my videos and posts :) I really appreciate you and hope this ebook will help you develop your technique, style, and portfolio in no time!
#growlovecreate
Oksancia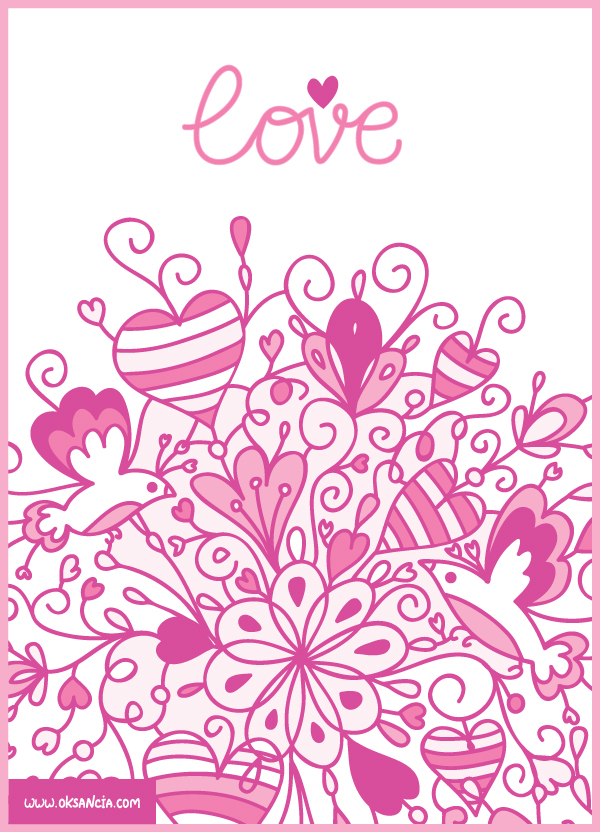 Happy Valentine's Day, everyone!!!
I want to share some love with all the wonderful people who support me and my work, so I designed this little freebie printable card for you.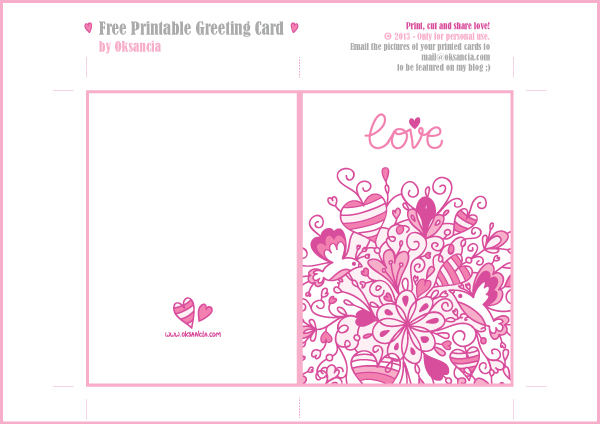 You can download it by clicking on the picture, print it, cut it out, fold it and share love with someone!
Enjoy!
This card is for personal use only. If you email me the picture of the printed card, I will feature it on my blog.
Have a great, full of love, day!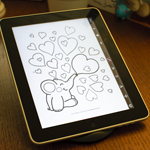 It's time for my new freebie printable coloring page! Yay! I do hope you are enjoying these! This time I have something new for you – a quick tutorial on how to color my Rondy the Elephant coloring pages on your iPad or iPhone with your fingers. Just follow the steps below!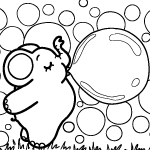 Hey, hey, hey, boys and girls! :D How have you been doing? I am back from my short trip visiting my family. It was a great time, but now I'm so ready to get to work again. Ideas have been pouring in lately. That's the value of good rest! Here you have your new coloring page with Rondy the Elephant having some leisure time blowing bubbles. Have fun coloring! :)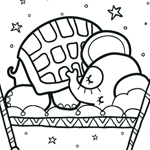 It's that time again – time to get your crayons and felt pens! Get ready for a new free printable coloring page! :) This one in especially fun before bed time ;) Color this sleeping elephant and make your dreams just as colorful and bright!
New free coloring page is here! This time Rondy the Elephant is playing guitar. I am a bit sad that I have never learned to play guitar myself, but Rondy has.  And not only guitar – he plays all kinds of musical instruments. He and his friend Birdie give quite a performance together… I just might learn to play myself one day due to his inspiration ;)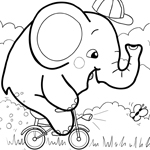 I loved coloring pages as a child and I still consider coloring in my sketches and selecting colors for my paintings one of the most fun parts of creating an image! I said to myself: "Could be a nice idea to start creating a freebie coloring page for all sweet kids who love coloring just as I do!" And I already have curious Rondy the Elephant to star in the coloring adventures! I asked him and he was thrilled! :0)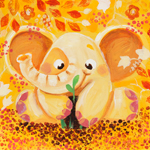 Just wanted to let you know that I'm collecting my Rondy paintings into 100 Elephants and 33 Poems project on Flickr! There are many more adventures of Rondy the Elephant to come. Hope you enjoy them as much as I do! :) There is also a little giveaway on Rondy Facebook Page! Come join us to win your favorite item from Rondy Etsy Shop.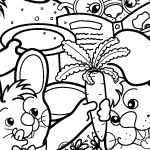 Holiday season is here and so is my new free printable calendar 2011 as an early holiday gift to all the wonderful people who have been supporting me and my work online and offline! :) 2011 is the year of Rabbit and so my calendar is featuring cute hungry bunnies. Enjoy!