Posts Tagged 'Coloring Pages'
---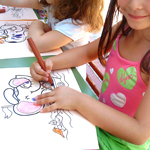 I have recently received this sweet photo from one of my customers who had purchased Printable Coloring Book Rondy the Elephant. Little kids from kindergarten are having fun coloring my Sailor Rondy coloring pages :) I can't express how much happiness it brings me to see my work being enjoyed by kids! Thank you so much Ilias for sending me this pic! :)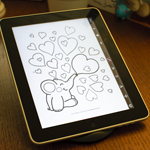 It's time for my new freebie printable coloring page! Yay! I do hope you are enjoying these! This time I have something new for you – a quick tutorial on how to color my Rondy the Elephant coloring pages on your iPad or iPhone with your fingers. Just follow the steps below!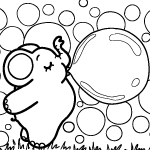 Hey, hey, hey, boys and girls! :D How have you been doing? I am back from my short trip visiting my family. It was a great time, but now I'm so ready to get to work again. Ideas have been pouring in lately. That's the value of good rest! Here you have your new coloring page with Rondy the Elephant having some leisure time blowing bubbles. Have fun coloring! :)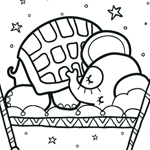 It's that time again – time to get your crayons and felt pens! Get ready for a new free printable coloring page! :) This one in especially fun before bed time ;) Color this sleeping elephant and make your dreams just as colorful and bright!
New free coloring page is here! This time Rondy the Elephant is playing guitar. I am a bit sad that I have never learned to play guitar myself, but Rondy has.  And not only guitar – he plays all kinds of musical instruments. He and his friend Birdie give quite a performance together… I just might learn to play myself one day due to his inspiration ;)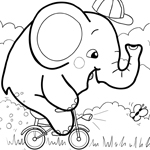 I loved coloring pages as a child and I still consider coloring in my sketches and selecting colors for my paintings one of the most fun parts of creating an image! I said to myself: "Could be a nice idea to start creating a freebie coloring page for all sweet kids who love coloring just as I do!" And I already have curious Rondy the Elephant to star in the coloring adventures! I asked him and he was thrilled! :0)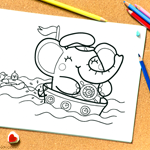 I have just finished my first printable coloring book with the illustrations with Rondy the Elephant! his is the first book in my Rondy series. It features 10 black and white line art illustrations by me, Oksancia, suitable for children of any age. Parents and grandparents are also welcome to join their boys and girls in exploring Rondy's colorful world! :)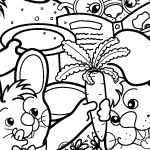 Holiday season is here and so is my new free printable calendar 2011 as an early holiday gift to all the wonderful people who have been supporting me and my work online and offline! :) 2011 is the year of Rabbit and so my calendar is featuring cute hungry bunnies. Enjoy!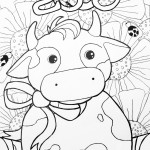 I've made a free printable coloring calendar 2009 for everybody's enjoyment!
You can download it from my blog, print it on some nice paper and color it the way you want! There is also a little giveaway! Read all the info on my blog. Happy holidays! :)