Posts Tagged 'Clients'
---
Hessa Bags is a manufacturer of Islamic handbags bags which are not only beautiful and practical, but meaningful too. They are based in Malaysia and has been my client since July 2015. I am very grateful to Shamsiah, the founder and owner of the company, who has been so kind as to write a review about our work together.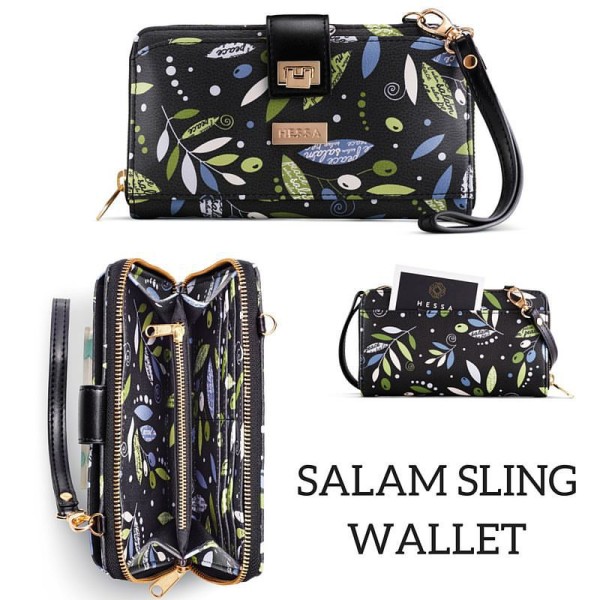 Here is what Shamsiah writes:
"I first discovered Oksancia's work on Spoonflower and subsequently on Shutterstock. At the time I was looking for an illustrator to help translate my ideas into beautiful patterns for my handbag business, and also to offer their views and ideas on what will and won't work. Her work to me is clean yet meticulous, and although there is a wide variety in her work, they are all beautiful.
I loved working with Oksancia, she was quick to understand my (jumbled and sometimes vague!) ideas and voila, magically produce patterns which require just a few tiny tweaks here and there.
I highly recommend anyone looking for an illustrator to contact her. I personally can't wait to collaborate with her again, hopefully sooner rather than later!"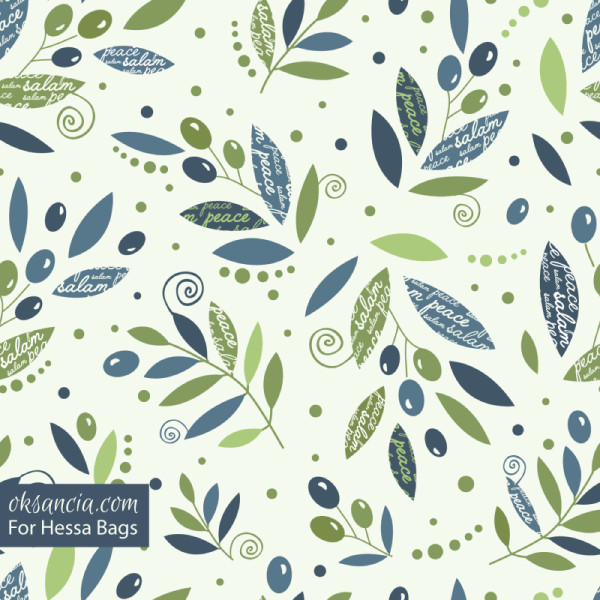 Thank you so much, Shamsiah, for you kind words. I really enjoyed our creative projects together. As of November 2015 I have done 3 projects for Hessa Bags.
Here is a Hessa backpack with beautiful paper airplanes vector repeating pattern I designed: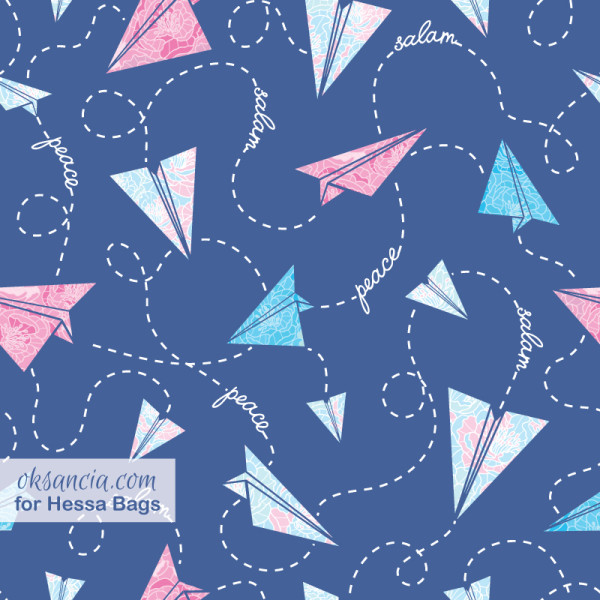 I am feeling honored to hear from my amazing client Sarah – the founder of Cari Slings woven babywearing wraps company based in North Carolina, USA. She was so kind to write down her feedback on our experience of working together for 1.5 years. Sarah is a mom of three beautiful children, a babywearing enthusiast, and a passionate geek, which translates into her esthetic and choice of topics for her company's products – USA woven babywearing slings.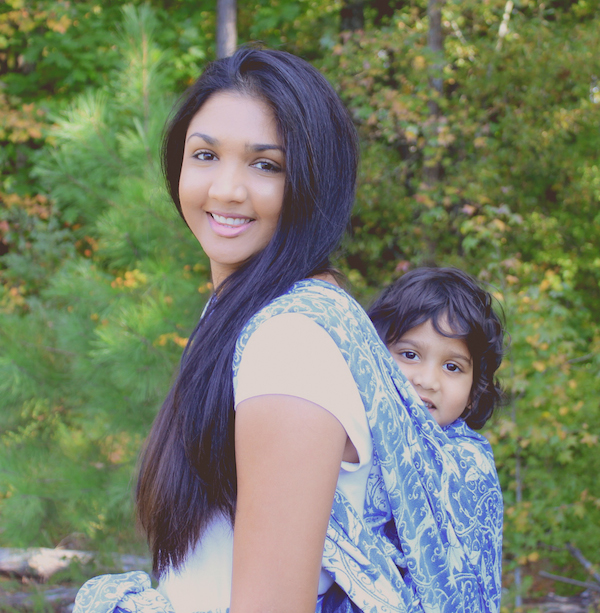 Sarah writes:
"When Cari Slings was still in its infancy, I was primarily using mill stock designs. I was very happy with our original designs, but I felt the need to start searching for designers that connected a bit more with my aesthetic.
I stumbled upon a beautiful underwater design by Oksana late one night and loved her work immediately. I found the designer's name and site and perused her website. I loved everything that I saw, and contacted Oksana enquiring if she would be interested in collaborating with me. She responded and let me know that she had recently given birth and was taking a little bit of time to spend with her family, and asked if I could get back in touch with her in a month or two. I did not hesitate to follow up, and upon getting back in touch, we worked out the details and she took my simple ideas and turned them into a beautiful Under The Sea design.
Since that first project, Oksana and I have collaborated further and she has produced some very fun and beautiful designs for Cari Slings. She has created our Owl Post (http://www.carislings.com/chapters/Owl-Post), Neverending (http://www.carislings.com/chapters/Neverending), The 'Verse (http://www.carislings.com/chapters/the-verse), #solidarity (a Facebook group exclusive design), our Avatar inspired design (another Facebook group exclusive) and a few more designs that are still "under wraps".
Oksana is a truly gifted artist. She is an absolute pleasure to work with. When we collaborate on an idea, we brainstorm different concepts, I let Oksana know what I would like, and within a few days, she provides me with a first draft design that always exceeds my expectations. Her artistry translates onto our woven fabric beautifully, and my customers and myself are always so thrilled.
If one is looking for an artist who puts her heart into her work, and if one is looking for a designer who will not just meet, but exceed your expectations, please do not hesitant to get in touch with Oksana. I cannot sing her praises enough. Her work speaks for itself.
Thank you kindly Oksana. :)"
Thank you so much for such a great feedback. I loved our time working together too! It's been filled with wonderful, creative assignments and I really enjoyed the process of working together to bring your and your customer's ideas to life on special, custom and uniques fabric designs.
Here is the story :) Our creative journey with Sarah started with this Under The Sea design in 2014 which is now available in an array of colors and fabric choices: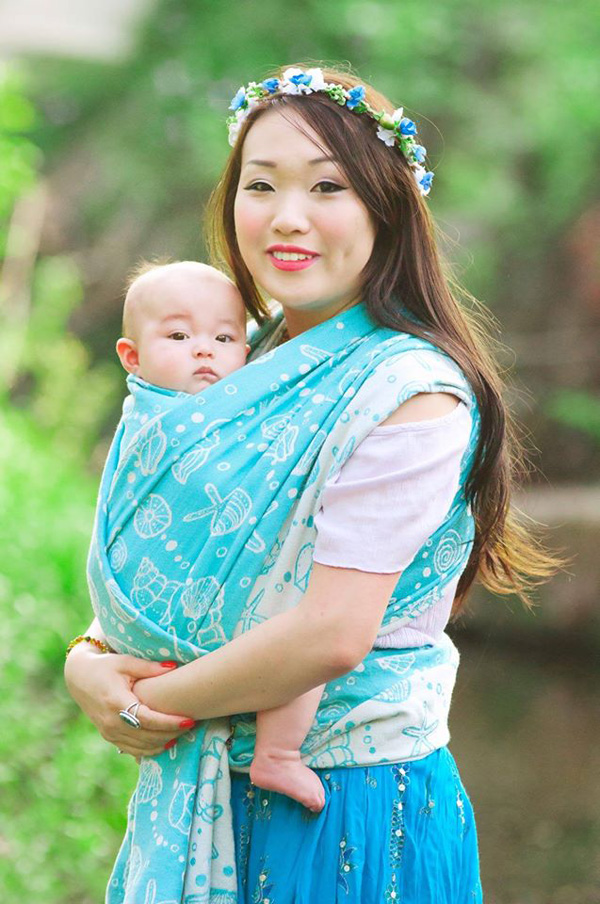 Since then Sarah and I collaborated on 9 more designs like the Owl Post fabric design inspired by the world of Harry Potter: