Posts Tagged 'Books'
---
A few weeks ago, my home office art studio was not available for 10 work days as our roof was beeing repaired after the heavy rains. I use iMac and Wacom Intuos for my work setup to do my freelance textile design projects so I couldn't take them to a coffee shop. I decided to go to the local library instead and to study marketing as I felt that I wanted to spend some time studying a new level for my business. This was a perfect opportunity! :)
Every day I packed a lunch for myself and went to the library to read books about marketing. I got two books:
1) a physical copy of Jab, Jab, Jab, Right Hook: How to Tell Your Story in a Noisy Social World* by Gary Vaynerchuk
2) The Sell: The Secrets of Selling Anything to Anyone by Fredrik Eklund* – audiobook
As I walked for 1 hour to the library every day, I listened to The Sell audiobook and really enjoyed it. It talks a lot about personal brand, taking care of yourself, confidence, and marketing. I found the tone and the message to be very inspiring.
A few weeks ago I attended a book launch of IMPACT X: How to Transform Your Wisdom, Work, and Wealth into Meaningful Community Impact written by Paksy Plackis-Cheng. I really enjoyed the presentation, especially how Paksy organized the event by focusing on the stories of the great entrepreneur impact makers who she invited to speak on a panel. I was very inspired by their stories at the book launch.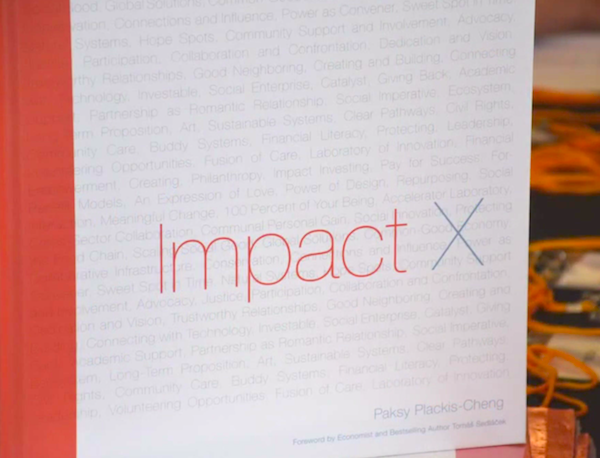 I am reading the book now, which is filled with amazing experiences and wisdom of incredible business men and women making the impact on society with their work.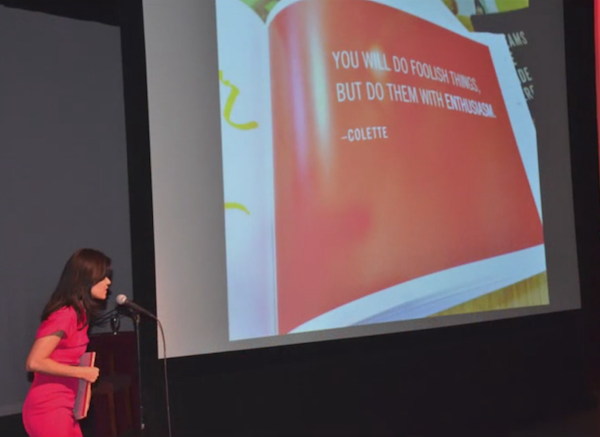 Little did I know that Paksy was originally from the Netherlands. After briefly meeting her husband Brian at the event, he introduced me to Paksy and I shared a bit of my story about my 7 years in the Netherlands and my art business. My Dutch is very rusty after not having been used for more than 3 years ;) But it was still really nice to speak with Paksy about our common Dutch-American experiences. We ended up meeting for coffee a few days later and Paksy was so nice to interview me about my seamless pattern design business for her blog.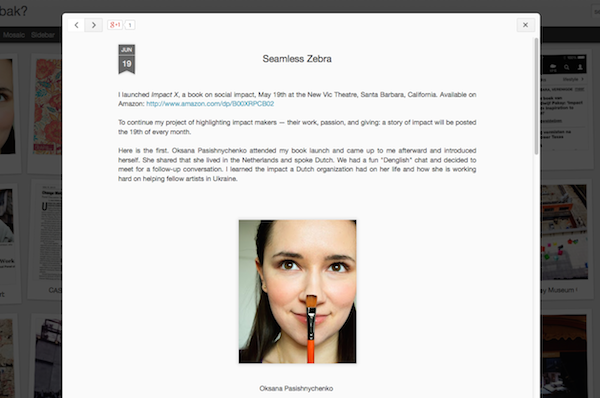 Huge thank you to Paksy for taking interest in my work!
There have been some new developments over the last few months with which you can find out in this interview. Me and my husband Alex gathered a group of talented artists and designers to form a surface design studio called Seamless Zebra. It's still at a beginning stage of development, but the experience so far has been wondeful. I'm very excited to see what the future holds! :)
Happy to share with you spread 5! It appears that our Star Girl has a little baby sister whom she enjoys spoon feeding :) And their favorite meal is … star cereal, of course ;)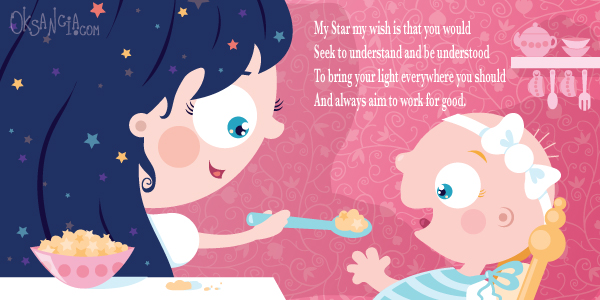 And here is just finished illustration on my iMac screen together with my sketch. Hope you enjoy it!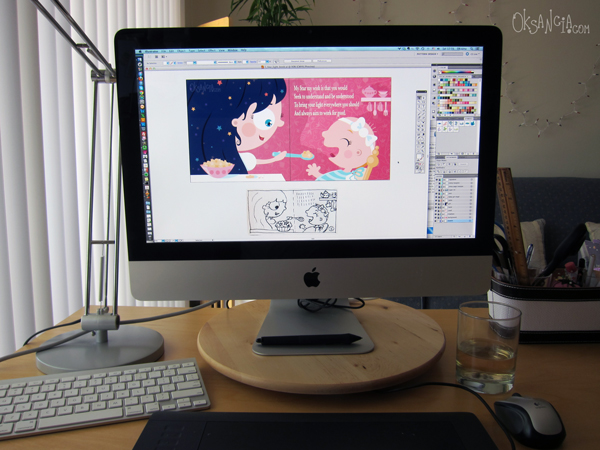 Wishing you all a great weekend!
Spread number 4 is about a little girl who is trying to be a pop star, giving performances to her family and friends :) Do you recognize yourself? ;)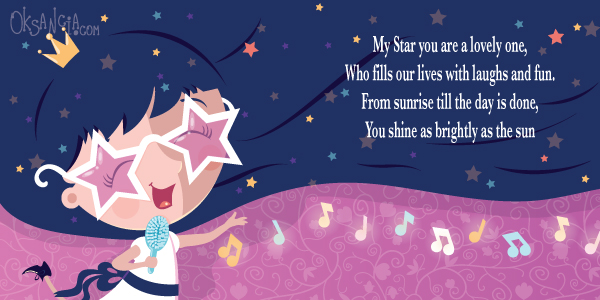 When I was little, I was always too shy to sing in front of people, but I did sing into a hair brush pretending it was a microphone when no one was around :)
Here is spread number 3 of a new book I am illustrating. What do you think?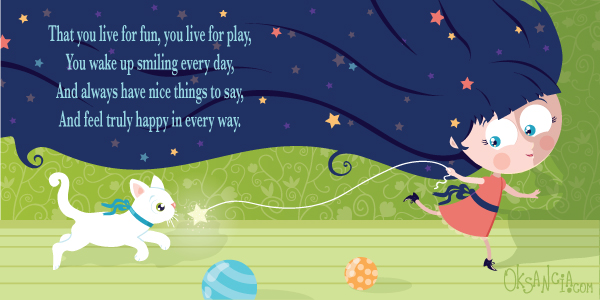 In this illustration Star Girl is playing with her white cat chasing a star on a string :) While I was writing this post I suddenly realized that this kitten looks very much like my parent's cat ;) Funny that I didn't see that before!
Second spread is here! How do you like it?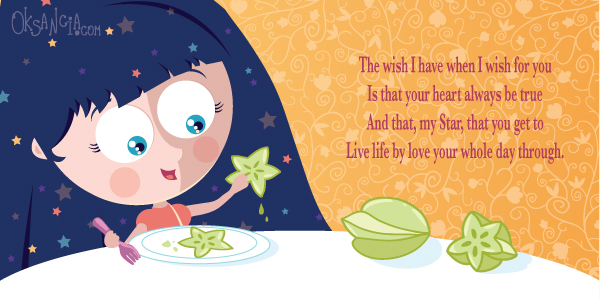 My idea is to show Star Girl character exploring different things shaped like a star. In this one she is eating a star fruit :) For me personally star fruit is one of the exotic treats I got to experience only as an adult. I have always liked the cute shape of it… I remember as a child seeing star fruit on TV I would imagine a new taste for it and when I finally got to try it for the first time, it, of course, tasted totally differently from how I thought it would :)
This is spread 2 of Star Light, Star Bright children's book I am illustrating for Flowerpot Press publisher. Here is Spread 1.
Hope your week is going great!
I am working on a new children's book! Yay! It's a second book in the series of my Star Girl books. The first one is Twinkle, Twinkle, Little Star book which was published by Flowerpot Press publisher and it's available for sale here. I'm so excited to announce that now I am illustrating a Star Light, Star Bright poem with the same main character – cute long haired girl-star :)
Here is me in my home studio working on this book…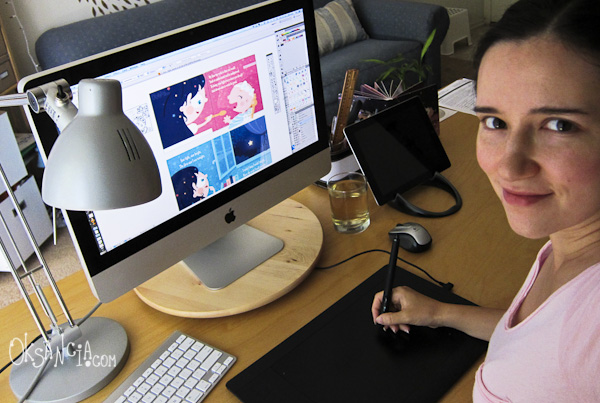 I'm so happy to show you my work in progress pictures so here is the sketch for the first spread.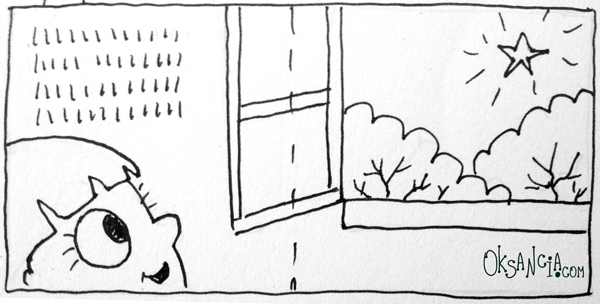 And here is the final vector illustration: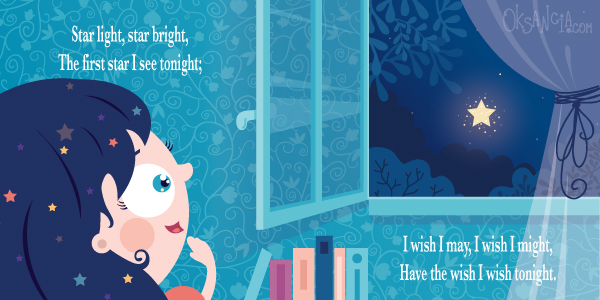 Can't wait to see the book in print. I've been imagining it on my shelf already ;)
What do you think of spread one? :)
P.S.
Happy Fourth of July to all our American friends! Alex and I plan to go see fireworks tonight. How about you?
So excited! I have just signed the contract and started working on a new children's book!!! :) I'm not going to say much at this stage, but the work is going and I am loving it…
Here is a little sneak peek detail of the first spread I finished – a surprised little fish :) It's not the whole illustration, just the part of it ;)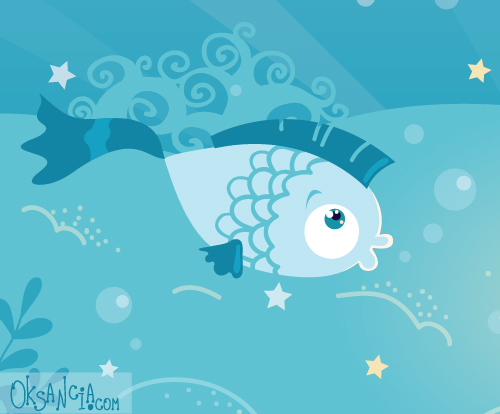 I wish you all a great creative week!
I have recently composed a collection of books that have one of my vector seamless pattern designs on their cover. As my patterns are sold via microstock websites, I do not always get to see my patterns in use, but whenever I find my design on a product, it makes me happy. So here they are: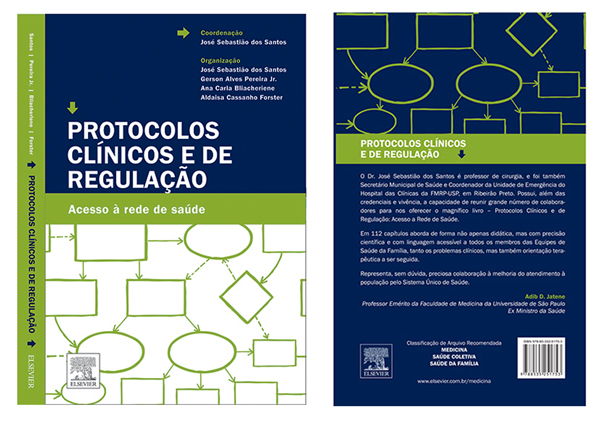 The book Clinical and regulatory Protocols (PCR): access to health network, published by Elsevier in 2012 in Brasil.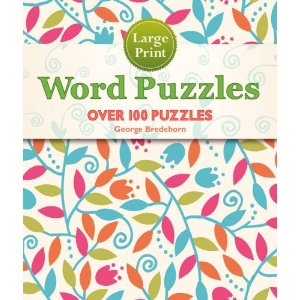 Large Print Word Puzzles book by George Bredehorn, publisher Puzzlewright, It is coming out in June 2013. Available on Amazon.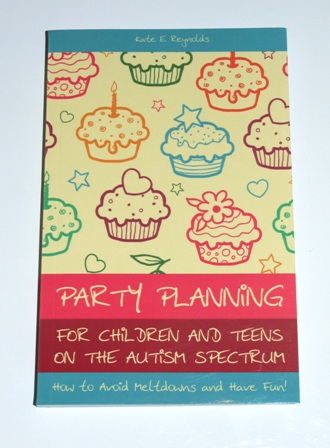 Party Planning for Children and Teens on the Autism Spectrum: How to Avoid Meltdowns and Have Fun!
Book by Kate E. Reynolds. Publisher Jessica Kingsley Pub, came out in July 2012.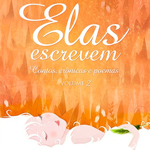 I have recently found out that my vector illustration "Asleep" is now on the cover of a book! So exciting! :) Alex found it for me and I am so happy to share it with you! The title of the book is Elas Escrevem Volume 2 which means "They Write".  It is a second part of the series with short stories and poems in Portuguese language published in São Paulo, Brazil.