Posts Tagged 'Acrylic'
---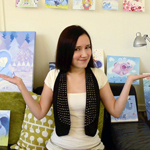 Yep! Finally a new video! Sorry for a big pause in uploading my videos, but I'll try to get better and come up with something fun for you! I hope you like it! Let me know what you think of my Rondy paintings! :)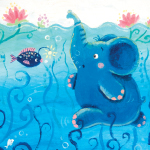 Finally I got to my next Rondy the Elephant illustration! I made this one a while ago, but totally forgot to post it… Oh well, now it's here! And in time for summer vacation, fun adventures and making new friends! :) Hope you like it!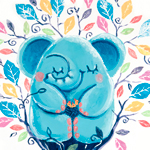 Rondy is making friends while sitting in a tree. Do you know why he is sitting up there? I have the whole story for you [I heard it from Rondy himself] but I will tell you about it a bit later. For now, let's climb the tree with Rondy… Shall we?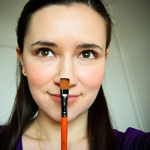 Hey everybody! Hope your are having a great week! I thought I would share the process behind creating my illustrations from Rondy the Elephant series. I painted my newest illo Elephant in a Porcelain Shop yesterday and was sharing the process on TwitPic and Twitter. It took me some time, but I was pleased with the result :) Here is the process…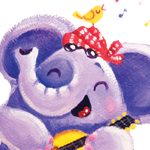 Rondy the Elephant loves to do all kinds of different things and one of his favorites is music. He plays the guitar like a rock star, he uses his trunk like a saxophone and his round belly like a drum. If he could do it all at the same time, he would be a true one-elephant-band :) Or maybe he can… Hm! I'll have to pitch him this idea ;) Here is my mini series with Rondy the Elephant as musician.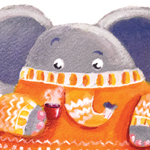 I was inspired by this week's topic on Illustration Friday – sweater – and immediately had this idea about elephants needing an extra sleeve in their sweaters to keep their trunks warm :) It was on my mind all weekend and here you can see the result: Rondy the Elephant in his favorite yellow sweater with a cup of tea.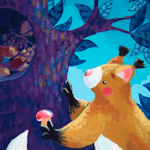 Here I am again with my new acrylic painting "Thrifty Squirrel" :) Last week I had to take some time off my computer to get dirty with my acrylics :) This is what came out of it!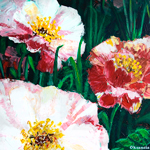 Nature is in full power already! Great to see the summer slowly coming to Groningen… Can't help but paint bold summer flowers! Equipped with this summer mood, I present to you  Flowers Of Beauty! :)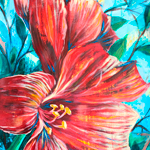 Sharing my new acrylic painting with you all – Exotic.  I really liked the combination of turcois blue, deep red and golden yellow, so I took a chance to experiment with these colors in this painting of an expressive flower.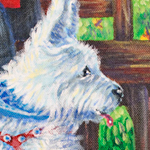 I'm back from the Book Fair in Bologna and very glad that now I can share the things I've been creating for a month or so… Here is my new diptych painting with acrylics "On the street".