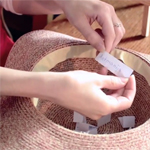 Hey guys! :) I hope your summer is going great! I have plans to work this summer, but I still have lots of fun with my projects and videos every day :) This time I am happy to announce that I have chosen the winner of my Mounted Print Giveaway.
And the winner is…
Živilė Žičkutė – wonderful freelance graphic designer from Lithuania.
Check out her YouTube channel, Twitter and Facebook Page.
Congratulations Živi! :D I will be mailing your mounted print as soon as possible!
Here is my video episode in which I select the winner:
He-he! I pulled out my big hat for the selection process… I got it a couple of years ago during our honeymoon trip. It is great for summer, but I haven't been using it that much in the Netherlands. I suppose it's because of the fact, that it's pretty hard to ride a bike when you are wearing a hat like this. I tried thought… :D Yep, we cycle in style here in Groningen… ;)
If you would like to have one of my Rondy mounted prints for yourself, you can order any illustration you like as a mounted print in my Etsy shop.
Hope you will check out my YouTube Channel for more episodes!
Subscribe to be notified about new videos!
AND
Let's chat on my Facebook page!
Would you like to take part in my giveaways in the future? What would you like to win?
Let me know! :)