If you are thinking of selling your repeat pattern designs or other artwork on Zazzle products, then this video is for you.
* This video is not sponsored by Zazzle. it is based only on my own experience as an artist and a designer. I do use some affiliate links in this post that help support my work.
I'm so happy to have hit an awesome milestone of 500 subscribers on my YouTube channel: Oksancia! Yay! Thank you so much, everyone, for making it happen! I really appreciate your support and encouragement! To show you how much I appreciate it, I am giving away 1 mousepad featured in this video: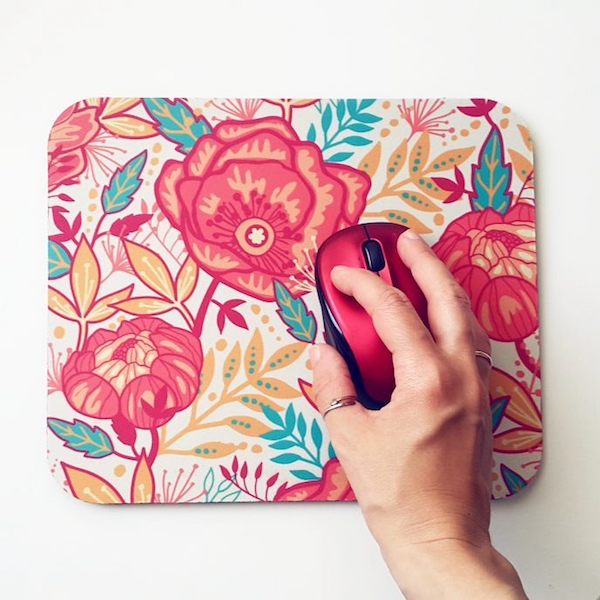 ❤ GIVEAWAY:
1 lucky subscriber will win 1 Zazzle mousepad with my floral pattern featured in this video + free worldwide shipment :)
To take part:
1) Subscribe to my YouTube channel.

2) Comment under my Zazzle review video with a few words about yourself: https://youtu.be/WWFqIC2MHz8
Deadline to enter: May 31, 2017.
I will choose the winner on 1 June 2017
Thank you so much once again for your support and kind words about my work! It means a lot to me!
I am talking about:
1) My 8 years+ of experience selling my artwork on Zazzle products.
2) Unpacking and a review of a Zazzle mousepad with my repeat pattern artwork:
3) Review of Zazzle pillows with my repeat patterns.
4) Review of Zazzle cups with my artwork printed on them.
5) Review of Zazzle and Rickshaw Mini Courier Bag with my vector repeat pattern artwork:
Hope this short video was helpful for you to get you started selling your own artwork on Zazzle.
Another awesome news is that I am working on a new newsletter which will feature my experiences as a textile designer and updates about my work. I will also share tips and advice about creating and using repeat patterns and vector artwork and giveaway special vector patterns and resources only available to my newsletter subscribers :) Sign up for my free newsletter here.