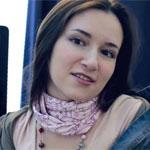 Hey all! How are you doing? Hope your summer is warm and beautiful! It's been pretty chilly and rainy here in Groningen so I decided to show you a couple of scarves I made… They are special scarves because they are made with custom printed fabric with my own vector seamless patterns on them! Check them out in my this week's YouTube video.
Video: My Seamless Patterns – Handmade Scarves
My YouTube channel: Oksancia
I made both scarves with very-very soft cotton knit fabric printed by Spoonflower.
Can't wait to order more and try something new ;)
Here are the two patterns printed:
I changed the colors to purple for this one…
More seamless patterns in my iStockphoto Lightbox!
 Do you prefer printed or plain fabric for your clothes? Let me know! :)