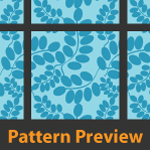 I am happy to present a brand new tool for microstockers worldwide –  Pattern Preview bookmarklet, which shows the tiled preview of any microstock seamless pattern with one click inside your browser window. It is absolutely free and everyone can easily install it.
The bookmarklet was developed by my husband Alex after I started creating my latest collection of conceptual vector seamless patterns on iStockphoto. It really helps to appreciate the beauty and true complexity of a seamless pattern or texture when you can see it tiled before buying the file on iStockphoto or other microstock agencies. Special thank you to Alex for all his work!
Pattern Preview bookmarklet is also a useful peace of software for graphic designers and illustrators who create and sell microstock seamless patterns and textures online.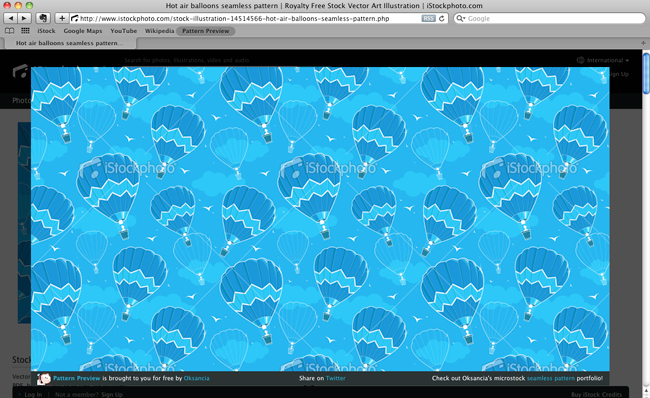 Features:
free!
easy to install
easy to use
works with all modern browsers
works on all known to us microstock agencies including Istockphoto, Shutterstock, Fotolia, Dreamstime, Bigstock, 123rf, Vectorstock.
works on iPad too!
We adopted this applet to all biggest microstock agencies, but it should also work on other microstock selling websites. If it doesn't work on the agency you buy seamless patterns from, please leave a comment under this post and we will do our best to fix it.
How to install Pattern Preview bookmarklet:
Drag the following link to your browser toolbar or right-click it and select Add to favorites/Bookmark This Link/you got the idea.
Once you are on a web page that displays a seamless pattern swatch, click the Pattern Preview bookmark  in your browser. To make the preview disappear, click anywhere on the page or on bookmarklet again.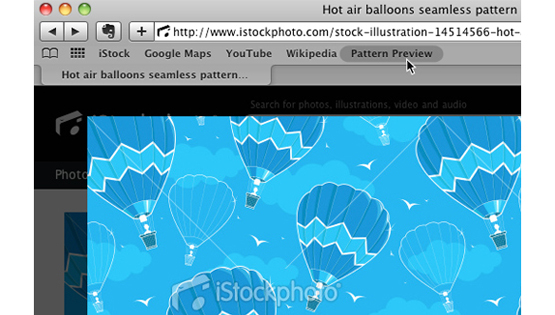 How to install Pattern Preview on iPad:
iPad is bookmarklet capable, however the process of installation is less easy than on a computer. It is worth it! We found it really fun to preview seamless patterns on iPad.
Copy all the following abracadabra text to clipboard;
Tap "+" on top of Safari window -> Add Bookmark;
Remove "Free bookmarklet tiles …." and type "Pattern Preview";
Make sure you selected "Bookmarks Bar"; Tap Save;
Tap little book icon on top of Safari window to list all your Bookmarks;
Navigate to Bookmarks Bar; Tap Edit; Tap on "Pattern Preveiw";
Remove address http://www.oksancia.com/freebies/…, and paste the abracadabra text you have copied in the first step;
Done.
Share!
If you like this bookmarklet, please spread the word by tweeting about it, writing a review on your blog or sharing it on social bookmarking web services. You can also use the banner I designed for Pattern Preview bookmarklet. Just copy and paste this text in your blog post or iStockphoto images description field.
[url=http://www.oksancia.com/pp][img]http://img.oksancia.com/lb/pp.jpg[/img][/url]

We hope you'll find this bookmarklet useful!
Check out also our Save For Stocks Script, which is a plugin for Adobe Illustrator that allows easy and quick preparation for submission.